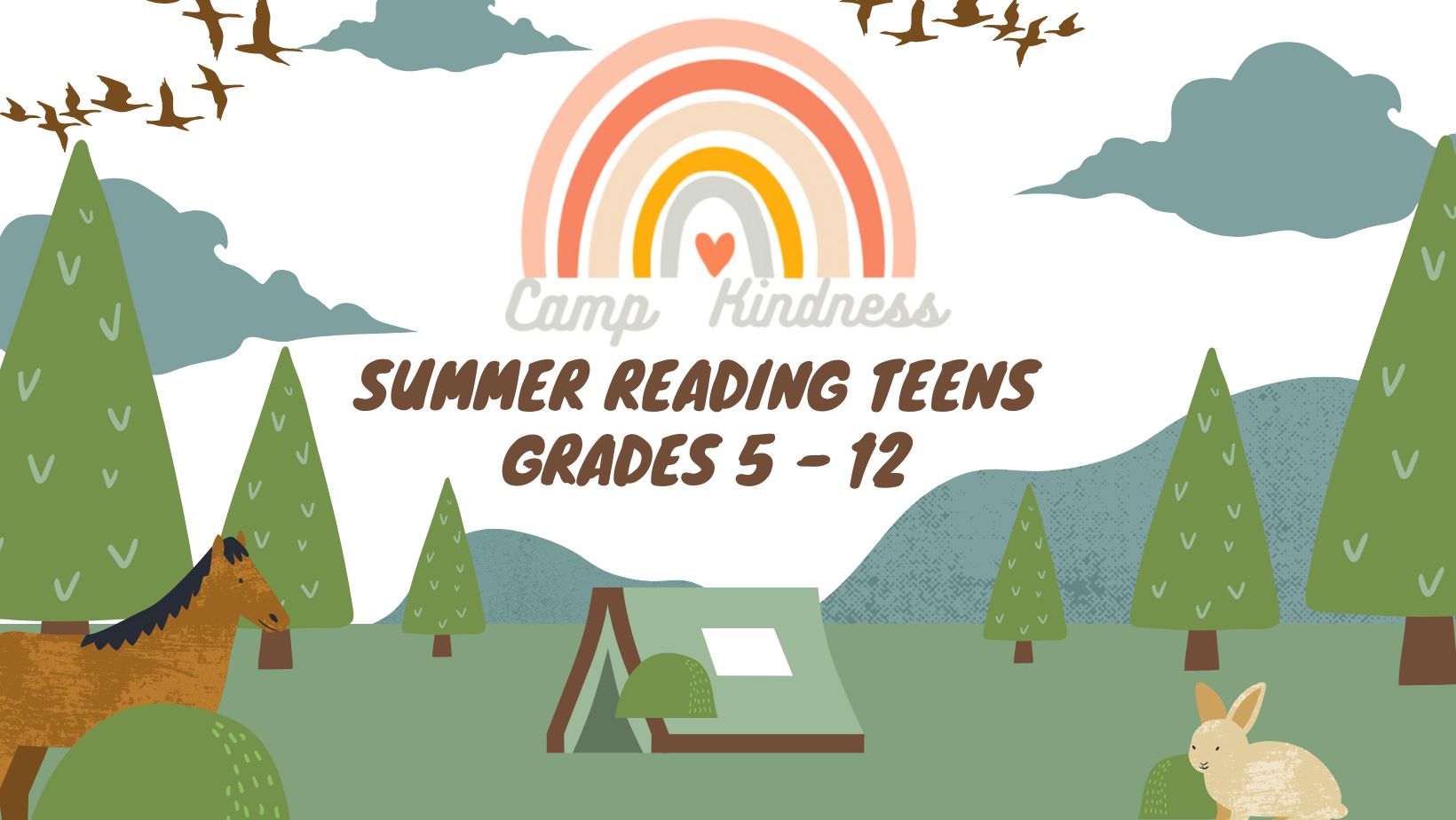 Camp Kindness
June 17 to August 5
For youth entering grades 5 through 12.
Read and complete fun activities for the chance to be the winner or one of 8 Grand Prizes! Incoming 5th graders can participate in either the children's or teen summer reading program.
2023 Teen Summer Reading Flyer
Sign Up for Summer Reading
Register anytime between June 1st and August 4th using Beanstack, our online reading platform. Once you've created an account, you're ready to start logging your reading time and completing activities.
Registration Prizes – A Free Book!
When you register for the teen program, you're automatically eligible for a free book to help you get reading. Stop in at the Library's Circulation Desk to let us know you've earned your free book, and you can choose a title from our large selection of tween and teen book prizes.
Beanstack Tracker App — You can also download the Beanstack Tracker app for  Android or iOs.
Read For a Chance to Win
Read what you like—that includes graphic novels, magazines, ebooks, and listening to audiobooks—and log your reading time as you go or in chunks of time.   Whenever you reach a reading milestone (10, 15, 25 hours etc.), you'll earn a virtual Logging Badge.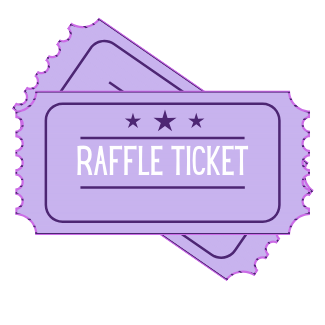 For each badge you earn, you'll also be awarded virtual tickets towards the Grand Prize Raffle.  The more you read, the more you earn.
---
10-Hour Drawing for Bluetooth Earbuds
Complete 10 hours of reading to earn your virtual Completion Badge (woohoo!) and 1 chance towards winning a pair of wireless Bluetooth earbuds.  One winner will be chosen at the end of the program.
Don't stop reading!  You can continue logging your time to earn more prizes and more chances towards the Grand Prize Raffle.
---
15-Hour Personalized Bookplate
Have your name in a library book!  Complete 15 hours of reading to receive a personalized bookplate placed in a library book of your choosing.  The bookplate will have your name on it in recognition of your reading achievement.  Visit the library to select your book (it can't already have a bookplate) and we'll add the bookplate.
---
25-Hour Walmart Gift Card Raffle
Hey super readers, log 25 or more hours by the end of the program to be automatically entered into this special raffle for a $25 Walmart gift card.  This raffle is separate from the Grand Prize Raffle.
---
Reading & Beyond — Activities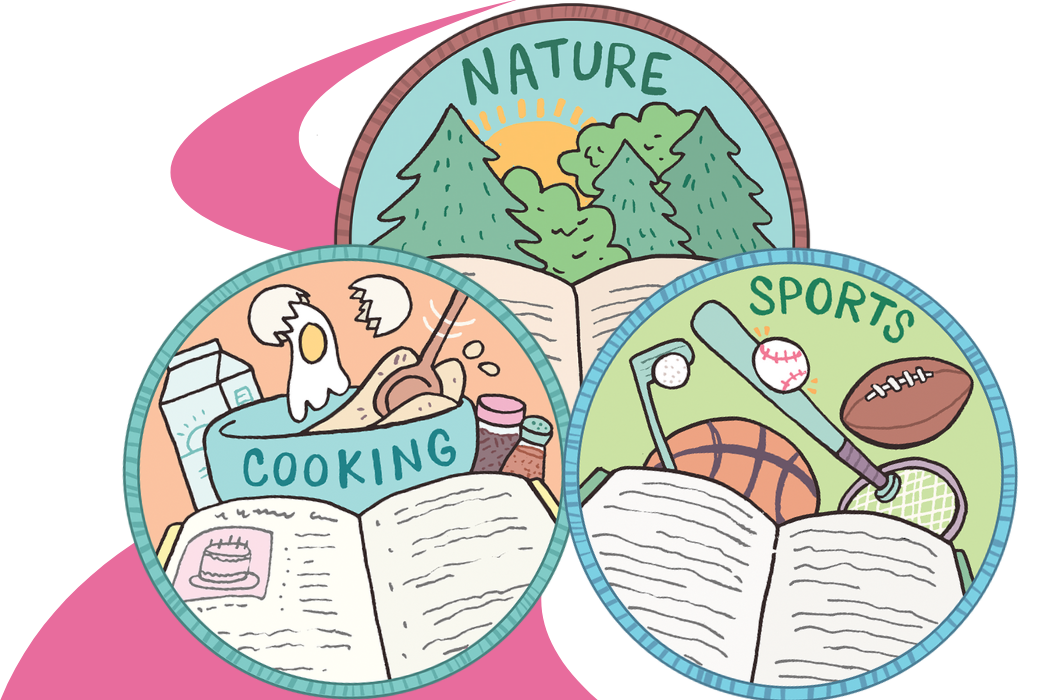 Looking for other ways to earn tickets and get ahead of the competition?  Complete themed activities to earn Activity Badges.  Activities range from painting, crafting, and reading.
You can earn 5 tickets for completing a badge.
---
"Read for Ice Cream" Weekly Drawings
For seven weeks, we'll run weekly drawings awarding $5 in Dairy Queen coupons to a reader who has logged reading time that week (Sunday-Saturday).  If you log your reading time regularly, you'll have more chances to win.  One prize per participant.
---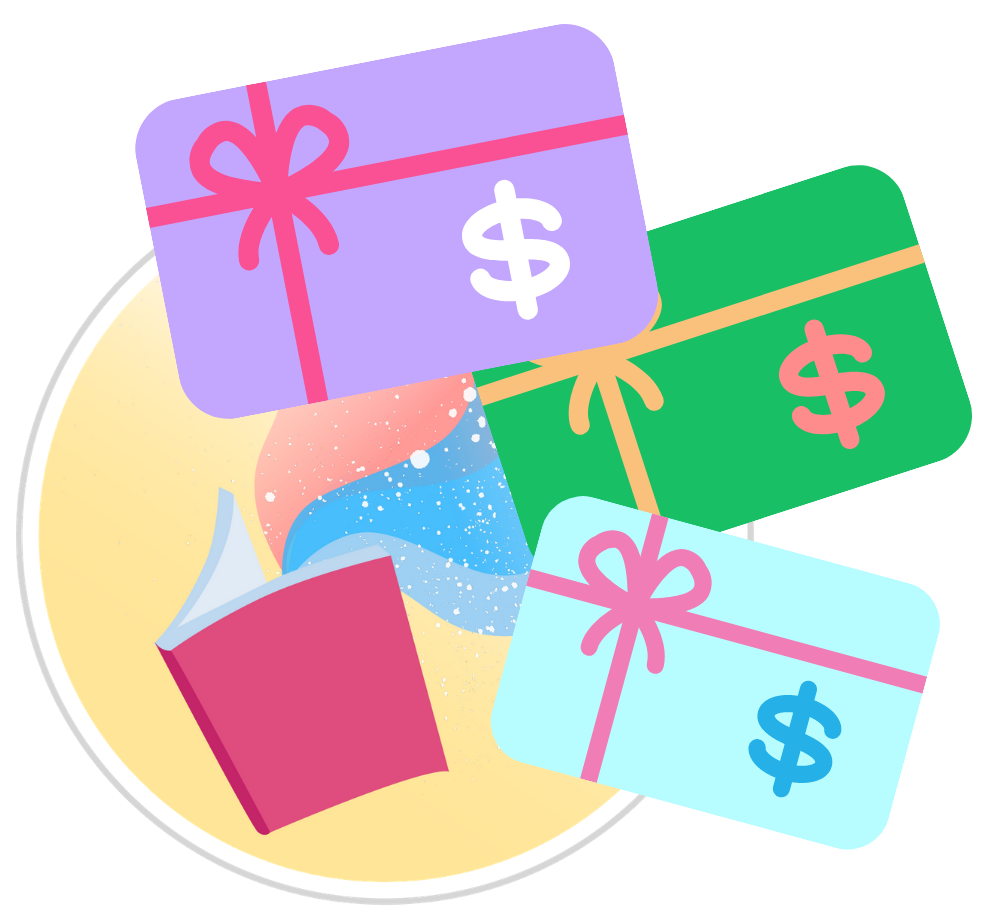 Grand Prize Raffle
We're raffling off grand prizes to teen participants who have earned at least one badge.  To enter the raffle, be sure to put your virtual tickets into the prize drawings that you are interested in winning.  You can add all to one drawing or divide them up however you like!
You can add and subtract tickets from a drawing at any time up until 11:59 p.m. on August 12.  Winners of the Grand Prize Raffle will be notified in August.  One prize per participant.
Questions?
 Call us at 724-226-3491 or email Youth Librarian Susan Wilson at
[email protected]